Oat Drying Sterilization Microwave Equipment
Microwave sterilization machine is mainly used for rice, corn, wheat and other grain drying and sterilization.With a fast drying speed, uniform, energy-efficient and easy to operate, easy to control, safety, no pollution, etc.
Grain microwave sterilization machine because of its structure characteristics, can adapt to bad environment, so it is mainly used in high temperature, dust, continuous work place, but this kind of microwave equipment manufacturing production process is complicated, so the cost is higher.
The microwave generator set on top of the heating cabinet, make the equipment as a whole is compact in structure, beautiful shape, smooth, cover an area of an area small.On physical properties of the material, design reasonable measures, make uniform microwave power density inside the heater, broadband microwave top-down feed-in, make the material more uniform heating, heating efficiency is greatly increased.
 Rice with microwave sterilization machine visual large opening blowout, leakage of microwave oven door and all adopt the visible window, the door automatic power-off protection device.
Equipped with temperature measuring probe in the oven, real-time detection of temperature in the cabinet, make the production process with visibility, more intuitive operation.Pictures of professional plant of High efficiency 24h continuous working microwave Drying Equipment
Models

Working 

Frequency

Input power

(no more than)

Output power

(no less than)

Size

(mm)

Dehydrated Level (no less than)

Sterilization

Capacity

XH-12

2450MHz

18kw

12kw

7200x650x1800

12kg/hr

100-150kg/hr

XH

-15

2450MHz

20kw

15kw

8300x720x1800

15kg/hr

120-180 kg/hr

XH

-20

2450MHz

26kw

20kw

8500x750x1800

20kg/hr

180-250 kg/hr

XH

-30

2450MHz

36kw

30kw

10500x950x2000

30kg/hr

280-350 kg/hr

XH

-40

2450MHz

46kw

40kw

10500x1050x2000

40kg/hr

380-450 kg/hr

XH

-50

2450MHz

58kw

50kw

12200x1200x2000

50kg/hr

480-550 kg/hr

XH

-60

2450MHz

68kw

60kw

13500x1200x2000

60kg/hr

500-600 kg/hr

XH

-70

2450MHz

78kw

70kw

13500x1550x2000

70kg/hr

700-800 kg/hr

XH

-80

2450MHz

90kw

80kw

15500x1550x2000

80kg/hr

800-900 kg/hr

XH

-100

2450MHz

110kw

100kw

16500x1750x2000

100kg/hr

1000-1200kg/hr
Materials can process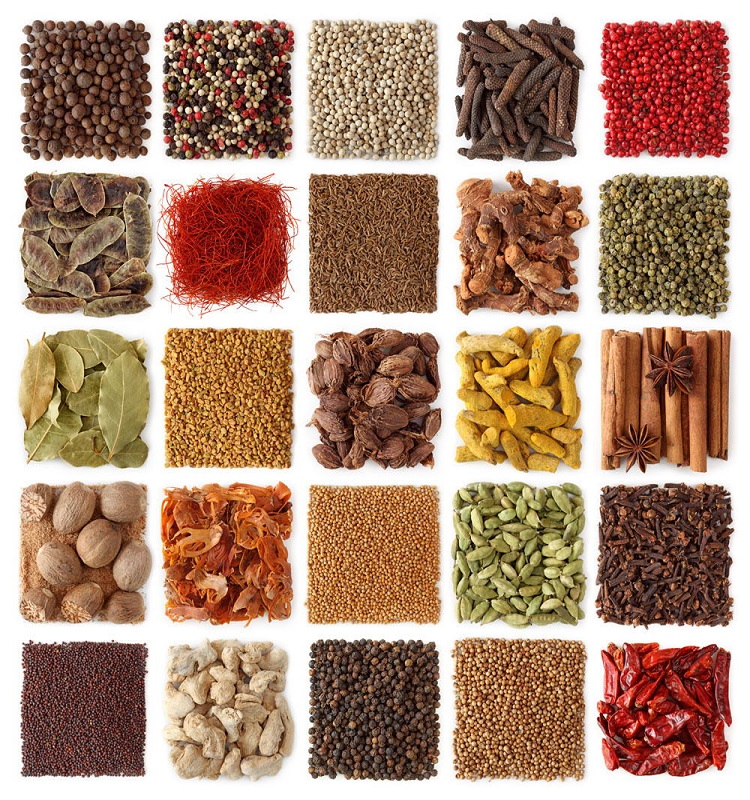 Features of water cooling  microwave dryer:
1.    Heating is uniform and speed is high :microwave heating source is from internal object. the heat is uniform , heating the internal and external at the same time can save the heating time. Efficiency is high and quality is good .
2.    Control in time and reflex  sensitive : microwave heating can switch the power to  desired value quickly in  a few seconds, and microwave inertia is small ,which can realize fast control of temperature. and convenient for automatic continuous production.
3.    Strong field temperature: can make the material to rise temperature in very short time at very high filed.  The high temperature  of the field is to ensure the product quality and  the sterilization effect.
4.    Strong penetrating power :when the microwave penetrate medium . microwave interact with the medium to some degree, the medium temperature increase . the medium material internal and external heating up almost at the same time .and form heat source condition. Therefore has better penetrability.
5.    Clean and no pollution : microwave heating cover small area, avoid environment high temperature. labor intensity and condition is greatly improved. Clean and no pollution.

1.Stick PE  Protective film on the equipment surface. 
2.wooden case for containers as to customers ' requirements.
3. normally ship the goods 20 days after the receipt of deposit.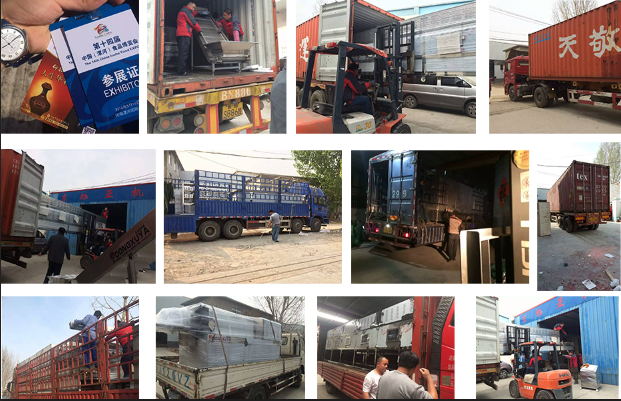 1). professional consultation service before, during, and after sales.
2). Free project planning and design services upon clients' special conditions.
3). Debugging and inspecting of equipment  before shipment .
4). Overseas installation and training of operator .
5). Provide basic production techniques and formulas.
6). 1year complete warranty for our equipment.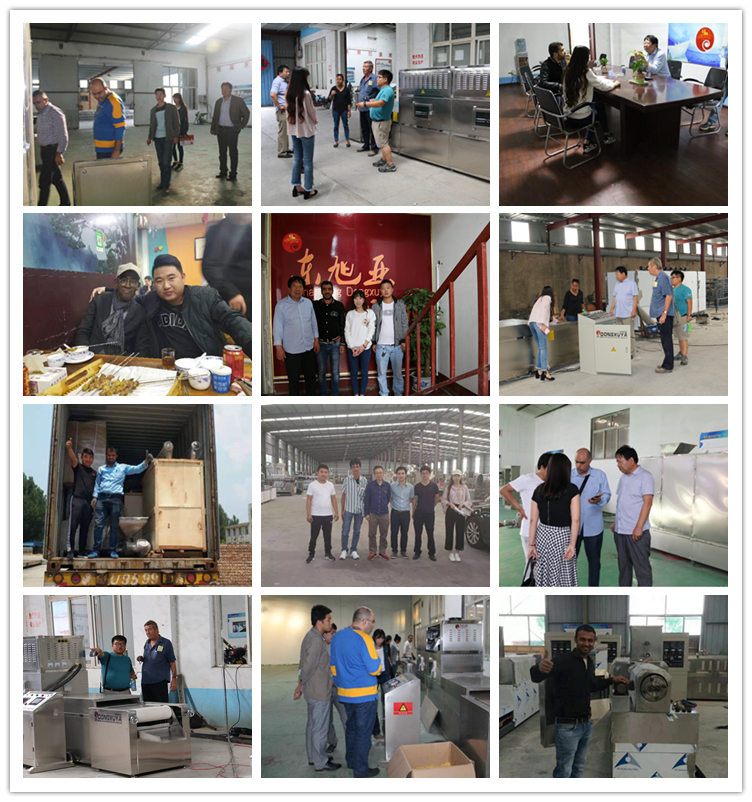 Company Information
 
Shandong  Dongxuya Machiney  Co.,Ltd  is located  in Jinan City , Shandong province . It is a high-tech enterprise with integration of microwave application equipment & extrusion equipment research, development, sales ,design ,production and service. The company is specialized in manufacturing series of extruded leisure food production line ,series of microwave drying &sterilizing equipment, microwave liquid sterilizer and other products. With production equipment and professional technical team. It is a leading company in extrusion food production and microwave production field .  With the mission of " professional technical service to customers", the company  integrates the latest design and manufacturing technology home and abroad to provide users high performance and high reliability equipment .  the company adhere to the enterprise philosophy of " professional , devotion and dedication" and the excellent technical design scheme to provide the new and old customers superior quality products .